The Second Bath Textile Summer School August 2015
May-2015 - Lovely new clothes for Elsie and Robyn size dolls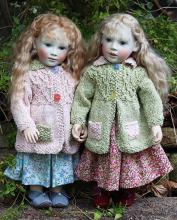 We are very pleased to introduce a new range of lovely outfits for our dolls with the Elsie and Robyn size bodies. Please take a look at the outfits in the Dolls Boutique section of our website, they are all available to order. Please feel free to contact us for more information.
Best wishes from Lynne and Michael
Jan-2015 - Winter Elsie has a new hair colour!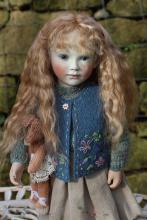 Here is Winter Elsie, one of our new dolls for 2015. We just wanted to let you know that we have slighly changed the colour of her hair, hope you like it.
Oct-2014 - Sale of earlier dolls
Our proposed sale of earlier dolls is going to be postponed from November of this year to next year, being our 35th year of doll making! we have a number of special things to look out for!  However we are making one piece available at a very special price. It is one of our earliest dolls, Alice, from the early 1980's she comes with her trunk full of lovely accesories including her engraved silver brush and comb. She also has a number of sets of clothing and underwear, I am attaching lots of photos. This is the last Alice we have and the whole piece with the trunk is £1700 including postage and packing.  ALICE and TRUNK are SOLD
Oct-2014 - Christmas Edition 2014 Cuddly baby Bonnie!
Here is Baby Bonnie in her lovely angora fairy dress in gorgeous shades of pink. She looks lovely with her older sister Pippa in her fairy outfit!. She is available from The Toy Shoppe in the US and directly from us for Europe and the uk. She is an edition of just 15 pieces and is £495 or $970.   
Sep-2014 - New email news..2015 sign up here!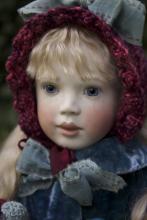 I will be starting an email news feature in early 2015, please send me your email address if you would like to receive this, it will include any new small editions etc and upcoming events ....best wishes,
Lynne
Jun-2014 - Robyn in Linen, New Collectors Club Edition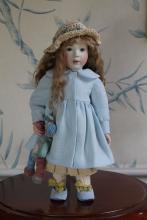 Robyn in Linen, special 2014 collectors club edition of just 10 pieces. To find out more click here
Sep-2013 - Christmas edition 2013 Pippa Winter Fairy SOLD OUT
Introducing our new cloth bodied doll for 2014, Pippa, 12" a big sister to Bessie. Here she is wearing her lovely Christmas Winter Fairy outfit. Lots of beautiful beaded silk velvet, silks and organzas with soft mohair knits. She also has a delightful mohair bear by Stella Topping. She is an edition of just 15  and available only from The Toy Shoppe in the US and from us. £650 and $1099
Jul-2013 - Collectors Club Dolls 2013 : Emilia and Cicely
A long time ago we made a wonderful velvet coat that fitted the Lillian and Susannah. many people have asked for a doll in this coat. for the Collectors club doll this year we are offering  10 piece editions of  Emilia and Cicely in an outfit comprising a red patterned cotton skirt and cotton skirt over which they wear a lovely red wool version of the coat of the past. price £1650 $2730
Jul-2013 - Doll News Magazine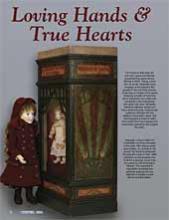 Roche Dolls featured the Winter 2011 edition of Doll News from the UFDC (www.ufdc.org) in a lovely 8 page article by Janet Gula.
Jul-2013 - Collectors Club Edition 2011...
Bonnie Baby, just 9" tall has a newly designed, slightly weighted baby body. She is still available to Club members, NB. we have very few of the pink edition left
Click here to view the Collectors Club Edition 2011.
Jul-2013 - Winter Christmas Fairy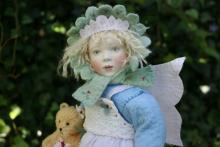 Pictured above was our delightful new Christmas Edition for 2012
She is Bessie, our new toddler for 2013, big sister to Bonnie Baby. For further details of our Winter Christnas Fairy, please see the specials page.
Jul-2013 - Two New Ranges join the Dolls' Boutique!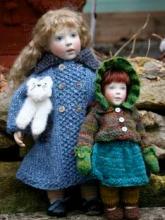 Lynne and Michael have introduced an exciting Second Range to the Dolls' Boutique, comprising of 2 new outfits fitting the 10 to 11 1/2 inch wood bodied dolls (see Rose pictured above with Little Friend Ivy).
A Third Range just for the Little Friends is also available now. Kitty, Rose and Ivy can be seen modeling the special outfits.
Don't forget the existing extensive range of items for the larger 16 to 18 inch dolls in the Dolls' Boutique.
Jul-2013 - Looking for something old
On the look out for a Roche doll from the past?...
if so, why not give us a call or send an email... we may have just what you are looking for... available from our own collection.
Jul-2013 - From our 2013 Collection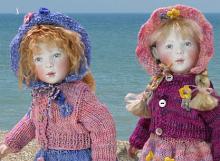 From the 2013 Collection. Our all new soft bodied doll Bessie is available in a choice of two delightful hand knitted outfits. Each edition is of 20 pieces only. View Our 2013 Collection.
Jul-2013 - Special Edition Olivia for Autumn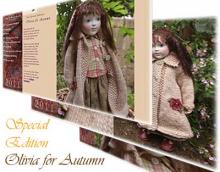 Olivia for Autumn a new edition of just ten pieces. She has a really gorgeous knit coat with flower motifs. The outfit is available as a new item in the Dolls' Boutique First Range.