Error message
Deprecated function: The each() function is deprecated. This message will be suppressed on further calls in _menu_load_objects() (line 579 of /customers/c/f/b/roche-dolls.co.uk/httpd.www/includes/menu.inc).
Our Book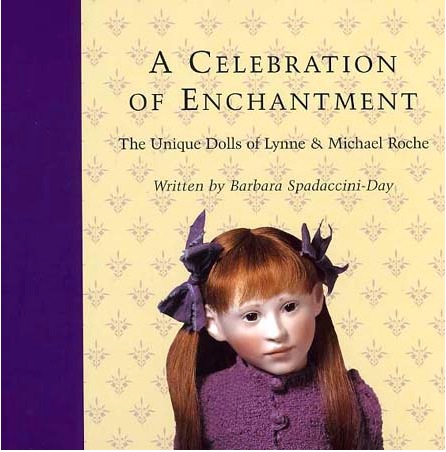 We commemorated our 25th year of dollmaking (1980-2005) with a beautiful and informative publication, witten by Barbara Spadaccini-Day.
This hard cover book has 120 pages in full colour, forming a complete volume covering all the dolls we had made to 2005. This beautiful book provides a fascinating insight into the development of our unique collection.
The book is available directly from Lynne and Michael Roche, prices include postage and packing.
The Regular edition, hardback, is priced at £30
A Delux signed edition, hardback with slip-case etc, is priced at £55
Click the image on the right to view a selection of pages
Order form
An order form in PDF format (95Kb) may be downloaded - click here
Archives Complete listings of our dolls prior to 2007 are given at the end of our book 'A Celebration of Enchantment'. In addition archival records of our collections and special editions from 2007 can be viewed on this site. Although the dolls are no longer available, the archives are useful to our collectors.